ONE WAY GRAPHICS IN NORTHAMPTONSHIRE
Oct 08 2021
The Window Film Company has printed and installed custom created, one-way Contra Vision graphics for a premises in Northamptonshire.
The Window Film Company were approached to create a display for the front of the premises, delivering a bright and impressive display on the exterior face of the glass frontage, while still allowing for a view from the inside out. To deliver this, The Window Film Company used printable Contra Vision window film.
The desired effect is created by printing onto a specialist perforated film, with the exterior facing side of the film printed onto, with the interior facing side left blank. When looking at the film from the outside, it's the printed graphics that are visible, while when looking from the inside out, the eye is automatically drawn to the perforations, with the natural focus of the eye serving to fill in the gaps, delivering a view to the outside.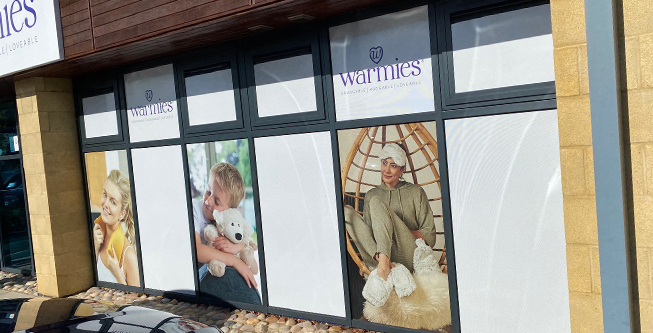 This technique delivers a range of benefits. Firstly, it delivers an eye-catching display on the glass frontage. The graphics also provide another plus; blocking the view from the inside in – delivering privacy for those inside the facility. All of this is achieved without blocking the view from the inside out.
The and was able to provide exact measurements and custom created graphics to The Window Film Company's print team, who were able to print the design onto the film, taking into account the frames to ensure that the graphics flowed perfectly from pane to pane.
The film was then installed by a team of The Window Film Company's talented fitters, with the finished project delivering a striking, professional and stylish exterior appearance, with the view from the inside out maintained for those inside the premises.
For more information on how The Window Film Company can deliver printed graphics for your windows or other surfaces, please contact a member of our friendly team by calling 01494 794477 or email info@windowfilm.co.uk.