THE WORLD ON WALLPAPER
Sep 24 2021
The Window Film Company has printed and installed custom created wallpaper at the World Cancer Research Fund in London.

The World Cancer Research Fund is a leading cancer research charity, using charitable donations to fund global research into the causes of cancer. Based in North London, the organisation approached The Window Film Company torrent and install custom made graphics onto a prominent wall in their office.


The graphics were specially designed, were full colour and depicted the World Cancer Fund Network, with a series of smaller graphics and icons combining to create a map, with additional detail showing the location of associated organisations across the world.

After discussions with the team at the charity, it was agreed that the best solution would be to use digital wallpaper. This type of wallpaper is specifically designed to be printed onto, allowing for the creation of a genuinely bespoke and unique decorative addition to surfaces. This type of wallpaper has the added benefit of being long lasting and durable, making it perfect for use in high traffic locations such as reception areas and corridors.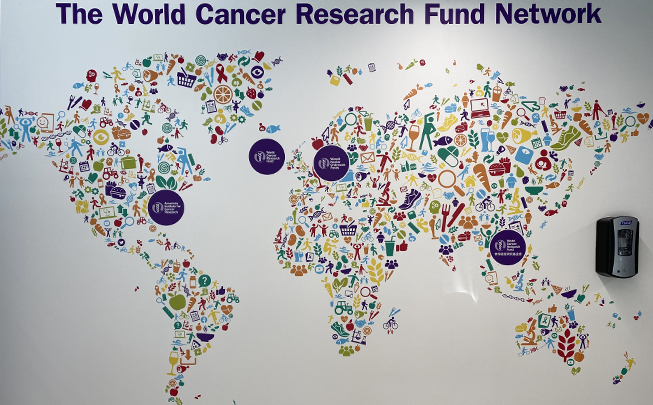 The team at the chair were able to provide high resolution artwork and the exact dimensions of the wall, in turn allowing The Window Film Company's in-house print and graphics team to create the wallpaper. The imagery was printed using state of the art print technology, with the graphics recreated in vibrant, pin-sharp detail.

The wallpaper twas then installed by a team of The Window Film Company's highly skilled installation technicians, their experience allowing them to line up each drop of wallpaper perfectly, ensuring that the pattern ran perfectly from one end of the wall to the other, with any joins virtually undetectable to the naked eye.
The finished project saw the wall transformed to feature a colourful, vibrant and interesting display.
For more details on how The Window Film Company can use custom created digital wallpaper to transform the surfaces in your home, office, shop or workspace, contact a member of the team by calling 01494 794477 or email info@windowfilm.co.uk.