REDUCING GLARE AT GREGGS
Jan 14 2022
The Window Film Company has installed two types of window film to a Greggs store in Caerphilly, delivering a stylish and immediately effective solution for excess glare.
Glare can be a year-round problem. Sunlight passes through glass – at different angles depending on the time of day and year – and can result in an uncomfortable internal environment. In homes it can make it difficult to comfortably read or relax, in work environments it can make it hard to focus on screens or machinery, while in retail outlets such as this, it can make for an unpleasant experience for staff and visitors alike.

Specialist glare reduction window film from The Window Film Company can help in such situations, with the film serving to filter out the harshest of the sunlight, without sacrificing excessive levels of natural light or blocking the view from the inside out. Films in the anti-glare range also deliver addition benefits such as solar control and UV protection.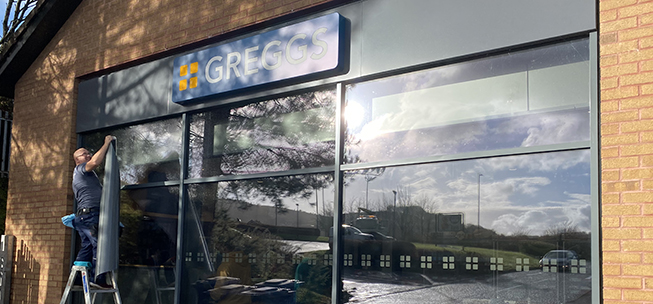 After discussions with the client, it was agreed that Optivew 45 would be the best choice for the glare reduction portion of the project. The Optiview range of films have been specially developed to deliver a more neutral looking external appearance while still being effective. Optiview 45 reduces glare by up to 49%, while also reducing excess heat by up to 36% while also fileting out 99% of the sun's potentially damaging UV rays (UV rays are the single biggest contributing factor to fading).
The second element of the project was the application a film that would block the light completely, helping to reduce the glare further. A solution was required that would fit in with the contemporary design of the building, serving to be both practical and stylish. It was agreed that a grey vinyl would be the most suitable choice; vinyl being a long lasting and durable film that blocks the light and the view from both sides of the glass while also delivering a stylish appearance.

Both films were applied to the external face of the glass, as an internal application wasn't possible due to access issues, with the installation undertaken by a team of The Window Film Company's fully qualified and vastly experienced fitters.
Once in place, the film was effective immediately, serving to reduce the glare and helping to achieve a comfortable internal environment while also ensuring a stylish exterior appearance.
For more information on the range of anti-glare window films, solar control solutions, or films for privacy, safety and security, please contact a member of our team by calling 01494 794477 or email info@windowfilm.co.uk