FILM FOR BALCONIES AND BALUSTRADES
Jul 22 2022
Window film and printed graphics from The Window Film Company can be used in an almost limitless list of locations to deliver a vast range of solutions and stylish decorative additions to glass and other surfaces. One of the trends we've noticed is the use of window film on glass balconies and balustrades.
Glass continues to be a popular material for architects and builders; it provides a contemporary, stylish, and modern look when used to create balconies and other partitions. In turn glass provides a number of potential issues as well as opportunities. Window film from The Window Film Company continues to be a popular, effective, and stylish way of solving glass related problems and maximizing the appearance and aesthetic of glazing.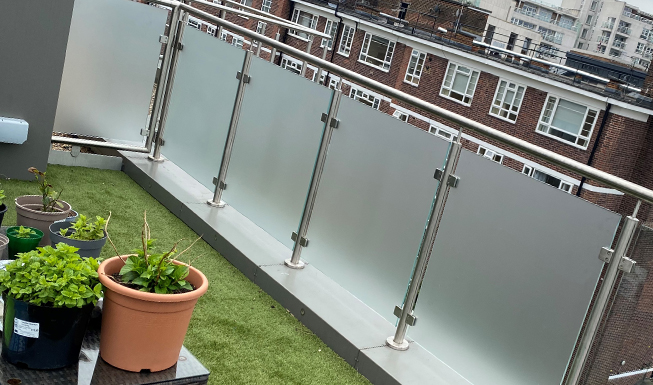 So, why add window film to your glass balcony or balustrade? There are a number of situations in which window film will help...
Privacy
Standard glass is, if you'll forgive us stating the obvious, see through. While this is more often than not a definite benefit, on occasion, it can be an issue. If the view through the glass is something that you'd rather not see, or on the flipside, if you'd rather those on the outside can't see in. Window film is the perfect and cost-effective solution, with a number of options available.
One of the most popular choices when it comes to privacy for balconies and balustrades is Frostbrite frosted film. As the name suggests, this film gives glass the appearance of frosted or sandblasted glazing, delivering a sleek and stylish look while blocking the view from both sides of the glass. The contemporary appearance compliments the naturally modern look of glass balconies, meaning that an application of Frostbrite is both effective and aesthetically pleasing.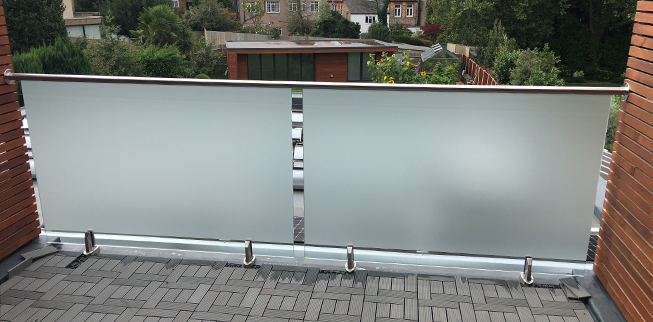 Other privacy options include reflective window film for daytime privacy, or solid vinyls for permanent two-way privacy, although vinyl isn't suitable for all glass types – for more information or advice, please call us on 01494 794477.
Safety
Safety window film is an added layer of protection, designed to ensure that if glass does break (as a result of accidental or malicious damage) it does so in a safe fashion. Safety window film works by holding broken shards in place instead of allowing them to fall in on themselves, in turn causing additional damage or potential injury.
Safety window film is available in a range of finishes, including a clear film, meaning that balcony glass can be made safe without altering the appearance; providing an invisible yet valuable extra layer of safety.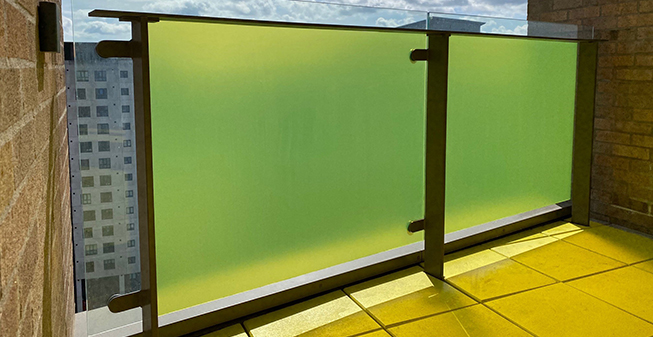 Decoration
While privacy and safety are functional uses for window film, it can also be used to deliver a new look, providing glazing with a stylish decorative flourish. The Window Film company can create custom made printed graphics, allowing for the creation of a genuinely bespoke appearance (contact us on 01494 794477 to discuss how we can create printed graphics for virtually any surface!).
A popular and straightforward way to alter the appearance of your glass is the use of rainbow window film. Available in a range of vibrant colours, the film will immediately transform the colour of your glazing without blocking the view or sacrificing natural light.
All of our window films are available to purchase online for DIY installation, but if you'd like The Window Film Company to supply and install your window film, please contact us on 01494 794477 or email info@windowfilm.co.uk.