FABULOUS FROST MEMORABLE MANIFESTATION
Jul 29 2022
Since being established in 1998, The Window Film Company has delivered an ever-growing range of window films and printed graphics, using state of the art printing and computer cutting equipment combined with decades of experience to deliver high quality, professional solutions. These include custom made manifestation markings, with this project a prime example.
Manifestation markings are required for one main reason; to make glass clearly visible and to avoid the accidents that would occur if it wasn't. Building regulations dictate that manifestation markings are required on specific sizes of glass, with large panels such as glass doors and partitions the most common examples.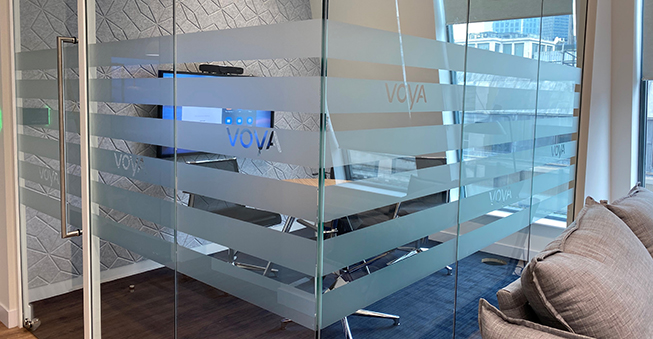 Markings must be at specific points on the glass, must be of a minimum size and must provide contrast to the background. These three requirements are designed to ensure that glass is quickly and easily distinguishable, but as long as these stipulations are met, markings can take almost any form, providing an opportunity to add stylish graphics, decorative elements or branding to glass.
This project saw the client take the opportunity to add their company name to the glass, using stylish branding to meet manisfestation requirements. The design was created by cutting the company name from Frostbrite frosted window film.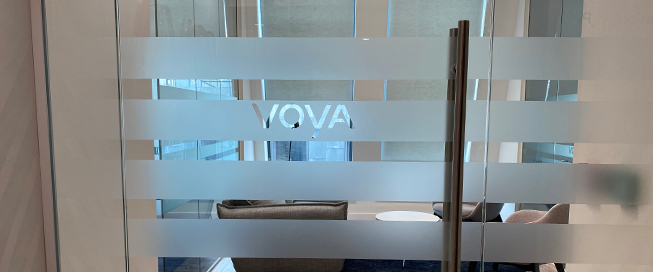 Frostbrite frosted window film provides glass with the appearance of frosted or acid etched glazing, making it the perfect choice for manifestation as it is an aesthetically pleasing way of delivering the necessary contrast between the glass and the background. It can also be printed onto to create impactful graphics or, as in this case, cut to create impressive text displays.
The film was cut using state of the art computer cutting technology by The Window Film Company's in-house graphics and print department, with the design comprising six equally spaced strips, each featuring the company name cut from the frosted film.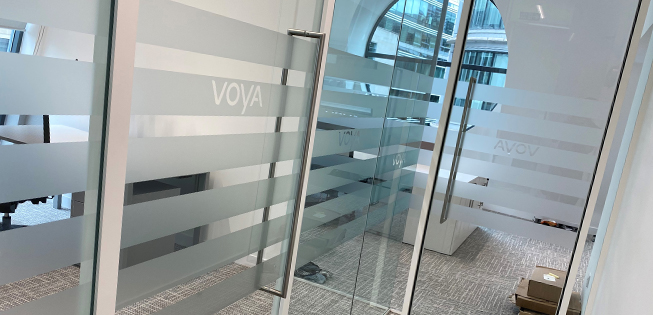 With the film created, it was installed by a team of The Window Film Company's fully qualified and vastly experienced teams of fitters, with the film applied to over 20 linear metres of glass throughout the 6th floor office in London.
The finished project saw manifestation requirements met in an aesthetically pleasing, attractive and professional way, with the glazing and overall feel of the office enhanced by the stylish branding.
For more information on how The Window Film Company can help provide a stylish manifestation solution for your glass, please contact a member of the team by calling 01494 794477 or email info@windowfilm.co.uk.