FROST ON THE ROOFTOP
May 06 2022
One of the great things about our world is the diverse range of locations we install window film. From homes to hospitals, stadia to stations, offices to outside, wherever there is glass we will fit film. We have to say though, this was one of the best views we've enjoyed…
The Window Film Company was engaged to add privacy film to the lower panels of an external balustrade at a Central London rooftop bar and restaurant.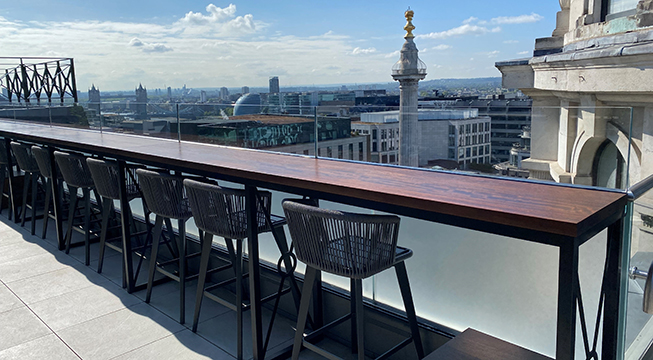 As the pictures show, the premises deliver an absolutely stunning view, offering an incredible vantage point for guests, enabling them to look out across the stunning London skyline. The nature of the property meant that any window film solution would need to be in keeping with the contemporary, stylish décor.
Having considered the requirements, it was agreed that Frostbrite frosted window film was the most appropriate solution. Once installed, the film gives glazing the classic look of sandblasted or acid etched glass, serving to block the view from both sides of the glazing while still allowing excellent levels of light to pass through. The film delivers this privacy alongside a stylish look, while also being long lasting and durable – another important factor in this installation.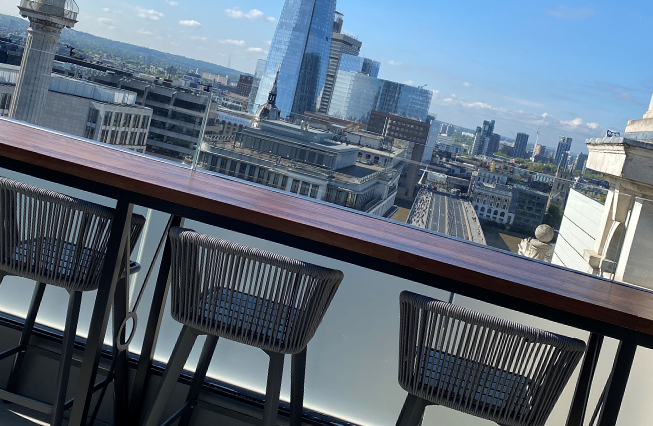 The film was installed by a team of The Window Film Company's fitters to 21 panels, with the film effective immediately, providing both privacy and a contemporary finish in keeping with the bars sleek and impressive design and décor.
For more information on Frostbrite frosted window film or any of the other privacy window film supplied and installed by The Window Film Company, please contact a member of the team on 01494 794477 or email info@windowfilm.co.uk