Window Film Installation Service
The Window Film Company provide a nationwide window film fitting & installation service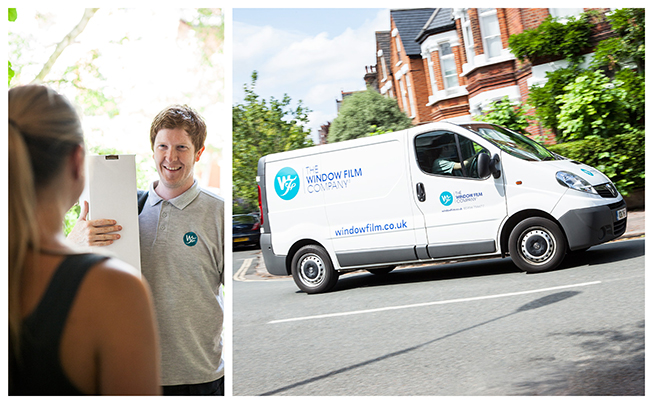 Window film is a high performance, long lasting and durable product that has been specially developed to deliver solutions to a number of glass related issues. An added benefit is the straightforward installation process, with DIY and professional fitting available.
Fitting window film can be achieved with a few standard household items, with the full range of high-performance window film available for DIY installation from The Window Film Company's online store. You can also choose to take advantage of a professional fitting service, with teams of fully qualified, fully trained and experienced window film installers on hand to deliver a professional nationwide service.
Window film can be used for a number of different purposes. Specially created to be retro fitted to existing glass, window tints and films are used to deliver privacy, add an extra layer of safety and security, reduce heat and glare, help fight against fading or provide your window with a stylish decorative flourish. Films are available in different grades and finishes, with the extensive collection designed to give you the biggest choice of high performance solutions for your specific issue or requirement.
Choosing your window film
The first step is to choose a window film that works best for you. The quickest and most straightforward way of working this out is to speak to one of our team. Our Account Managers are all fully trained experts (as well as being incredibly friendly!) and are always happy to advise on which film will best meet your needs, whether you would like the film on a DIY or fully installed basis. They can advise on performance, appearance and cost, and will happily arrange for the delivery of samples should you wish to see the film in action before committing to a purchase.
You can also find in depth information via this website, with imagery, performance data and a wealth of other information available to help you make the right decision available on the individual product pages.
What types of window films are available for installation?
The number of window films available continues to increase, with The Window Film Company stocking and supplying only those that provide the highest quality performance and appearance.
Privacy is a common requirement. Two-way privacy can be achieved without sacrificing natural light with an application of Frostbrite frosted film. Once applied, the film will block the view from both sides of the glass by giving glazing the classic appearance of acid etched or sandblasted glass – a contemporary and stylish way of delivering two-way privacy. Daytime one-way privacy can be achieved with an installation of a reflective film. This works by giving the external side of the glass a mirrored appearance during daylight hours, with the view from the inside out maintained.
Heat reduction window films do exactly as the name suggests, serving to lower heat gain and stop the steady build-up of heat and ensuring an enjoyable, moderate internal temperature without sacrificing natural light or blocking your view. This type of film is also known as solar control window film and works by reflecting away a percentage of solar energy before it can pass through the glass and into your home, making it more effective than curtains or blinds.
Safety and security window film is applied to windows to add an extra element of protection, with the film available in varying thicknesses and appearances. The prime function of safety film is to hold the glass together in the event of accidental or malicious breakage. By holding the broken glass together and in the frame, dangerous shards are prevented from falling in on themselves, becoming instantly dangerous and potentially damaging. Security film and bomb-blast window film is a more specialized product that requires professional advice and guidance, so for more information on these films we recommend you call us directly on 01494 794477.
Decorative window films are a stunning way to add a beautiful new look to your windows and glass. Printed or cut patterns will deliver privacy with an extra decorative flourish. The Window Film Company also offers a collection of exclusive designer ranges, providing an opportunity for you to add genuine designer style to your interior design scheme. Coloured window films also provide an excellent wat of transforming the appearance of your glazing, with rainbow window film and pre-printed stained-glass style effects available for purchase.
How do I install window film in my home?
Regardless of the type of window film you choose for your home, installation is a straightforward process that can be achieved with nothing more than a few household items. The first step is to clean the window as thoroughly as possible. Take time and care to remove as many imperfections as possible, as the cleaner the glass the better the installation will be. Once you have cleaned your window, create a soapy water solution by adding a few drops of washing up liquid to a plant spray bottle full of water. Use the spray bottle to completely cover the window with soapy water, then remove the backing sheet from your film and use the bottle to cover the exposed side of the film, too.
With the window and the film covered in soapy water, take the film to the window pane and allow it to flow onto the glass. The soap in the water will create a slip solution, allowing you to move the film into the desired position. Then, use the plastic application squeegee (provided free with each online order) to push the water to the edge of the frame and out from under the edge of the film before using a clean cloth to mop up any remaining moisture.
Easy to follow fitting instructions are supplied with each online order, with step by step video fitting instructions available at the bottom of each product page.
Can you install my window film for me?
The Window Film company offers a UK wide window film installation service, employing fully qualified, vastly experienced and accredited installers/fitters to carry out window film fitting wherever and whenever you need it. For more details on the fitting service or a quote, please contact a member of our team who will be able to provide you with a no obligation quote. All they will need to provide you with an idea of costs and timings are details of the window film you require and the number and size of the windows you would like to have film applied to. An approximate size is all that's required – while we ask you to be as accurate as you can, our installers will undertake full, precise measurements on the day of installation, so you don't have to worry about being exact to the nearest millimetre.
For more details about our professional service and the range of window films and tints supplied and installed across the UK by The Window Film Company, please call 01494 794477 or email info@windowfilm.co.uk.