Anti Glare Film for Windows and Glass
Q & A on anti-glare window films from The Window Film Company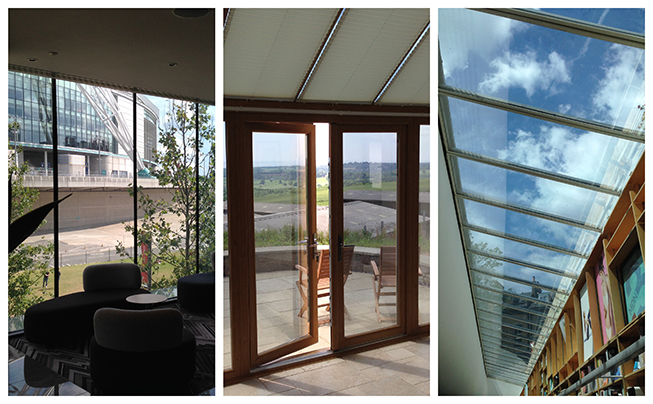 Glare can be a serious issue all year round. During the summer months, bright sunlight streams through untreated glass making it difficult to focus on screens or reading without straining.
During the winter months, on sunny days, the low-lying nature of the sun can mean daylight passes through windows at an awkward angle, again leading to an uncomfortable viewing environment.
Q1. What is anti-glare window film?
Anti-glare window film has been specially developed to filter out the harshest of the sunlight, in turn reducing the glare and making for a more enjoyable internal environment. The film is easy to install, with little to no hassle, the film requires no additional maintenance and is immediately effective. An application of anti glare/glare reducing film allows a high volume of natural light to pass into the building, without making the room dark and not blocking your view to the outside or sacrificing unnecessary levels of natural light.
Traditionally, you might be attempting to block glare by drawing curtains or closing blinds. While this is an effective method, it also blocks the majority of the daylight and will completely obscure your view. Window film provides an effective glare reduction solution while still allowing light to pass through and into your room, and will not block your view.
Q2. How does glare reduction window film work?
Anti glare window film is designed to be retro fitted to existing glazing, and is usually installed to the internal face of the glass, although external grades of film are available for when fitting to the inside of the glass isn't possible. It works by filtering out the harshest of the sunlight, with our most effective anti glare solution serving to deliver a reduction of up to 79%.
This range of window films has been specially designed to be highly effective without having a negative impact on your internal environment. We recognise that while glare is disruptive and unwelcome, a large reduction in natural light would be equally undesirable, so anti glare film will allow comfortable and enjoyable levels of light to pass through the glass while filtering out the harshest elements. Think of it as putting a light pair of sunglasses on your windows!
Q3. How will the anti-glare film make my windows look?
The appearance of your windows will depend on the anti glare window film you choose; there are a number of different options available, each with a different level of performance and aesthetic finish. The most effective glare reduction window films will give your glass a mirrored or reflective external appearance during daylight hours, while still allowing for a view from the inside out. For advice and information on the full range of glare reduction window films, their performance and appearance, please contact a member of our expert team by calling 01494 794477 or email info@windowfilm.co.uk.
Q4. What are the benefits of glare reduction window film?
An application of glare reducing film will also deliver a number of other valuable benefits. Excess heat can be a major issue for properties with numerous or large windows, with conservatories a perfect example. Left untreated, heat will pass through glass and steadily raise the internal temperature until it becomes too hot. An application of window film will help manage this build-up of heat, keeping your home at an enjoyable temperature.
Glare reduction film will also filter out the majority of the suns potentially harmful UV rays – one of the main contributing factors to fading. Fade damage often isn't evident until it is too late, with a combination of heat, light and UV combining to cause damage to furniture, flooring and anything else that is in direct sunlight. Glare reduction window film will serve to filter out up to 99% of UV rays – the biggest contributing factor to the fade process.
If you choose a window film with a reflective external appearance, this will also provide excellent daytime privacy. By giving the outside face of glass a mirrored effect, it stops passers by from being able to see in, acting as a privacy and potential security measure.
Q5. How do I install an anti glare window film
The Window Film Company offers a nationwide installation service, with teams of fully qualified and experienced full-time fitters on hand to complete your anti-glare window film project. Whether it is for residential or commercial premises, a big job or a modest size, The Window Film Company can help.
If you'd prefer to fit your window film yourself, all of our anti-glare window films are available to buy online for DIY installation. The process is a straightforward one and requires nothing more than a few standard household items. The first step is to clean the window as thoroughly as possible. The cleaner the window, the better the installation and the longer lasting the film will be. Next, create a soapy water solution by adding a few drops of washing up liquid to a plant spray bottle. Use the bottle to cover the glass with water, then remove the backing sheet from the film and cover the exposed side of the film with soapy water, too. Make sure both the window and the film are completely covered, before taking the film to the glass and allowing it to flow onto the pane.
Use the installation squeegee (supplied with each order) to push the water to the edge of the frame, before using a clean, dry cloth to mop up any remaining moisture.
Anti glare window film summary
· Window film filters out the harshest of the light.
· Easy to apply and maintain.
· An effective alternative to curtains or blinds – window film won't block all light or the view.
· Available in a range of different finishes.
· Anti-glare window film can be supplied on a DIY or fully installed basis.
· Can also provide effective solar control.
· Blocks up to 99% of UV rays to help slow down the fading process.
· Effective for use in commercial or residential premises.
· Reduce glare by up to 79%.
For more information about our window film installation service, on how an application of window film can reduce the sun's glare, or for details on the potential additional benefits solar control window films, please contact us on 01494 794477 or email us at info@windowfilm.co.uk.