Fabricize™ fabric finish window film
Give your glass an immediate upgrade with Fabricize; a brand new fabric window film available from The Window Film Company.
The Window Film Company is proud to introduce you to Fabricize, a brand new textured glass covering that will give your glass an immediate and super-stylish new look and feel.
Fabricize is a new and cost-effective way to give your windows and glass an extra dimension of style, delivering a unique textured appearance and fabric finish. it's available in three beautiful shades: black, white and pebble.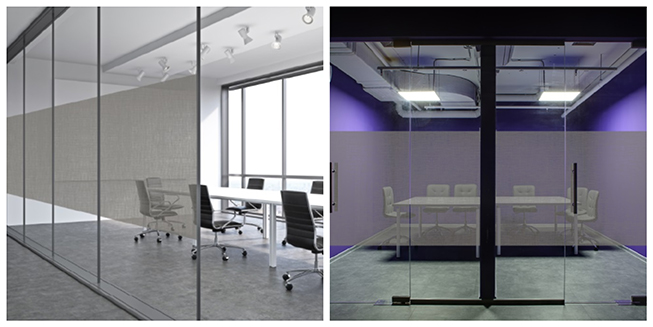 Stunning style
Simply put, Fabricize is a quick and cost-effective way of making your glass look beautiful. Once applied to glass, the fabric effect finish delivers a warm, stylish, textured finish, perfect for use in commercial or residential settings.
Available in a range of tones, there is a Fabricize covering to suit any existing interior theme, while bespoke printing is also available to deliver a genuinely unique addition to your glass.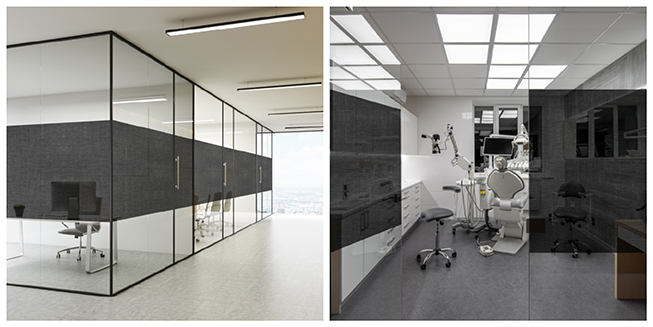 Bespoke beauty
As well as providing a beautiful finish in its off the shelf state, Fabricize also provides the perfect surface on which to print, meaning that The Window Film Company can create bespoke panels at whatever size you require. Using state of the art print technology and decades of experience in graphics, The Window Film Company can ensure your logo, designs and imagery are all recreated in perfect detail.
Premium privacy
The fabric finish of Fabricize means that while it won't completely block vision through glass, it will provide a level of obscurity, ideal for meeting rooms or other locations where a subtle element of privacy may be welcome.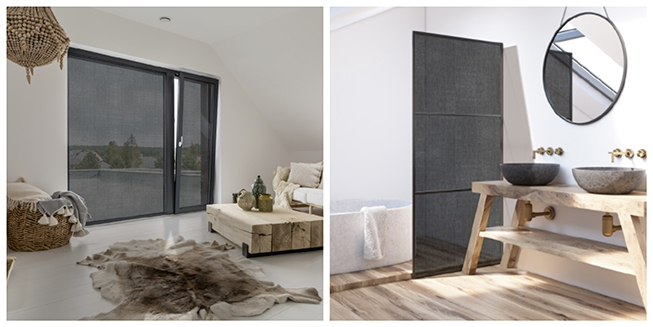 Making the most of manifestation
Manifestation markings are required on full length glass, to make glazing visible and to avoid accidents and injury. An application of Fabricize is the ideal way of meeting these requirements while also adding a stylish new look to your glass.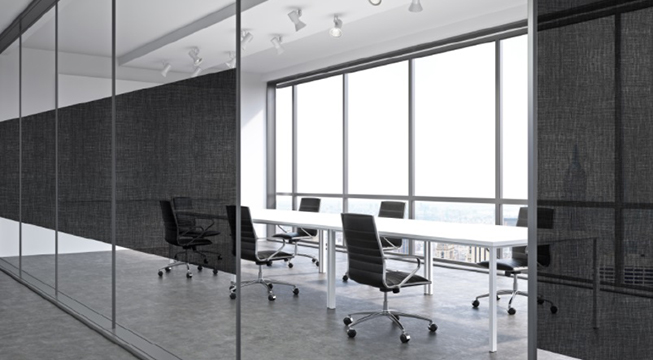 An application of a single band of Fabricize will meet manifestation obligations, provide glass with a decorative upgrade and also deliver an element of privacy. The film can also be printed to feature branding elements, imagery or text for a fully bespoke solution.
Three standard options
There are three finishes to chose from, each offering a beautiful, natural looking and stylish finish. Select from:
Fabricize White
Fabricize Pebble
Fabricize Black
It's possible to print on to whichever of the colourways you choose, for more details or advice, please contact a member of The Window Film Company team on 01494 794477.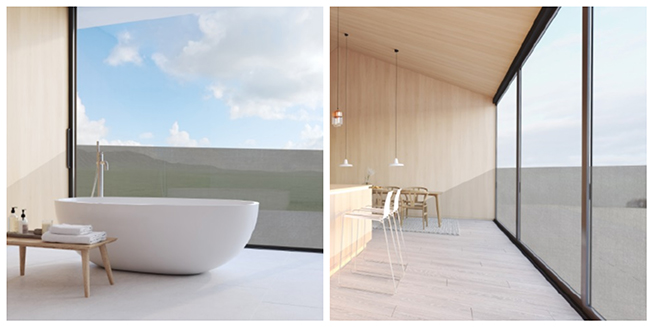 Installed by experts
Whether you choose to utilise Fabricize in it's unprinted, natural state, or decide to go with a custom created bespoke finish, your Fabricize film will be fitted by a team of The Window Film Company's fully qualified and vastly experienced installers. The work will be carried out quickly and efficiently at a time and date most suited to your situation. To take the first steps toward giving your glazing a stunning new look, simply call a member of the team on 01494 794477.
For more information about this fantastic film, a beautiful product that will look fabulous in both commercial and residential settings, please call a member of our team on 01494 794477 or email info@windowfilm.co.uk.