Frosted Glass Window Film - The Perfect Alternative to Standard Frosted Glazing
Frosted window film is an easy to apply more cost effective solution for window privacy than frosted glass panels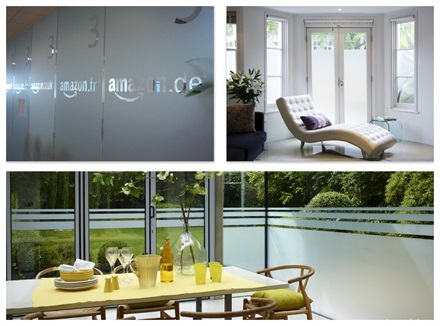 Frosted window film is the ideal way of achieving the same effect as frosted glass, without the expense of replacing your windows. After an application of one of our frosted films, your glazing will take on the exact characteristics of frosted glass – preventing vision both ways whilst letting a good level of natural light through the pane.
Frosted glass is useful in a variety of situations, and with a range of films that will provide the same result, window film is a versatile and durable alternative. The Window Film Company offer a full nationwide installation service, alongside an online store, allowing you to purchase frosted glass film available for DIY fitting.
---
Commercial frosted glass effect film, as with window film white frost, can be used in a variety of ways, with the high quality and durable nature of the film ensuring a long lasting, optimum level of performance.
Privacy is one of the most popular reasons for having frosted glass, and this can be achieved with a single application of frosted window film. The window film prevents vision from both sides of the glass, whilst still allowing a good level of light transmission.
Glass Manifestation is necessary for a number of reasons, and using frosted film is the ideal way to create manifestation in a range of designs and styles. The frosted glass effect provides a contrast between the filmed area and non-filmed area providing the necessary contrast to make the glass visible.
Logos and Branding can be created by computer cutting frosted window film. Once applied, the designs take on the appearance of frosted glass, providing an attractive, contemporary and stylish look for your glazing.
---
Residential Frosted Window Film is a very popular choice for homeowners looking to achieve either privacy or decorative effects on the glazing in their home. In creating the appearance of frosted glass, the film provides an attractive, contemporary finish.
Decorative Glass Effects can be created using frosted window film. By computer cutting designs from frosted film, it is possible to make an eye-catching feature of your windows, without using costly treatments such as acid etching or sandblasting.
Privacy in the home can be required for a host of reasons, and frosted glass effect film is the ideal solution. By obscuring the view both ways, frosted window film ensures stylish privacy wherever it is used in the home.
---
DIY Frosted Window Film is available for those who want to install the film themselves, whilst the nationwide installation service is available for both commercial and residential customers that require a professional installation. DIY film is available from our online store, whilst for an installation quote you can contact us on 01494 794477.
Frosted Window Film Patterns are available to buy quickly and easily from our online store. You can choose from a wide range of patterns, which will be computer cut out of the frosted film. Your film will be cut to your exact size specification, to ensure a perfect fit for each of your windows.
Off the roll Frosted window film is also available to purchase by the metre, with full 30 metre rolls of selected film available at special rates.
---