How Do You Cover Glass Doors for Privacy?
Add frosted glass privacy to your door glass using privacy window films.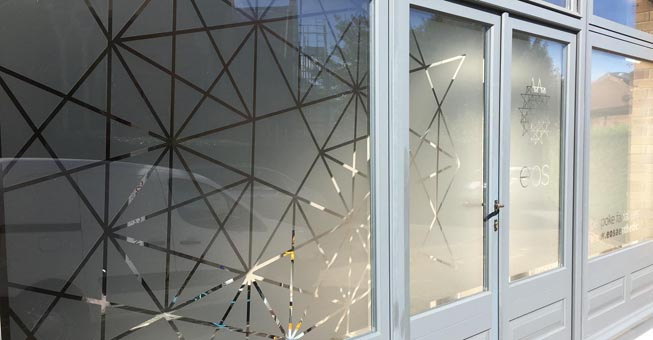 Window film is the ideal product for covering glass doors for privacy. The film is easy to install, long lasting and is available in a range of finishes and styles; suitable for use in both commercial and residential environments.
Glass doors continue to be a popular internal feature. Not only do they look stylish, but they also allow for light to pass through and help to deliver a bright and airy environment. Sometimes, however, circumstances can lead to glass doors requiring privacy. Whether it is in a bathroom at home or a meeting room in a busy workplace, window film provides the perfect way of covering glass doors for privacy.
Both the plain and decorative window film designs are all suitable for most type of glass and windows, front door glass panes, french doors, patio doors, bi-fold doors, and basically any glass door windows.
Cover glass doors for privacy in the home.
Frostbrite frosted film from The Window Film Company is an eye-catching and stylish way of delivering privacy for your glass doors. Once installed, the film will give your glass the appearance of etched glass or sandblasted glazing, blocking the view from both sides of the pane without sacrificing natural light. The film will give your glass door a contemporary new look while also delivering the privacy you desire.
Another benefit of using Frostbrite frosted window film for your privacy needs is that it can also be used as a beautiful decorative feature. The Window Film Company offers Frostbrite featuring both cut and printed patterns, with either option delivering a gorgeous appearance. Cut patterns are created by computer cutting the design from the film, leaving the patterned area see through, giving the film an extra opportunity to let natural light through the glass.
Frostbrite frosted film is also available featuring stunning white printed designs (including a number of exclusive designer collections). As with cut patterns, these are created to your exact size specifications, with each piece of window film a custom creation. This means that you can be assured of a perfect fit as well as a stunning decorative upgrade and privacy solution.
Covering glass doors in the bathroom.
An added benefit of using Frostbrite frosted glass film for covering glass doors is that it is incredibly durable. It has been specially developed to provide a long lasting solution in high traffic areas and is also able to withstand moisture and damp, making it perfect for use on shower doors, shower screens and glass doors in bathrooms. By adding a frosted finish that can not be seen through, you to add both privacy and style to existing clear glass at a fraction of the cost of replacement frosted glass panels or doors.
Cover glass doors for privacy in the workplace.
Window film is also the ideal option for covering glass doors in the workplace or office. Many commercial environments use glass partitions and doors, and sometimes privacy is required. Frostbrite frosted film can be used in its plain form to deliver a professional looking privacy solution, with the film used to cover part of the glass or the entire panel; the film can be cut and installed to the exact size required.
Frostbrite also provides the perfect surface on which to print, meaning it can be used to display branding elements, text or signage, illustrations or graphics, in turn creating an eye-catching and memorable display as well as providing the necessary privacy.
How is window film from The Window Film Company installed?
There are two options when it comes to installing the film to cover glass doors. All of the films offered by The Window Film Company are available to buy online for DIY installation and come complete with printed fitting instructions and a free application squeegee to help you with the fitting process. You can buy privacy window film for your glass doors either cut to the width of the glass, or you can buy rolls of window film by the metre, and trim to the size of your glass pane during installation.
The Window Film Company also offers a full installation service, with your window film fitted by a team of our fully qualified and vastly experienced installers.
Please get in touch for more information.
For more information about the installation process, for an install quote, samples or advice and more information about privacy films for glass doors and other glazing window treatments, please contact a member of the team by calling 01494 794477 or email info@windowfilm.co.uk.