How Do you Make a Glass Shower Door Opaque?
Making your shower doors opaque with frosted window film.
There are a wide range of options for adding privacy to glazing in your home. To make a glass shower door opaque, we recommend one of our long lasting and durable window films.
Frostbrite frosted window film from The Window Film Company is the perfect way to give your glass shower door privacy. Easy to order, easy to apply and available in a range of different designs and patterns, if you're looking for privacy in your bathroom or anywhere in your home, Frostbrite is the answer.
What is Frostbrite frosted window film for privacy?
Frostbrite from The Window Film Company is a high quality window film, designed to be retro-fitted to existing glass to provide a stylish, contemporary looking privacy solution for clear windows and glass shower doors.
Once applied, the film gives glazing the appearance of acid-etched or sandblasted glass, serving to block the view from both sides of the window or panel, providing immediate privacy along with a desirable new look.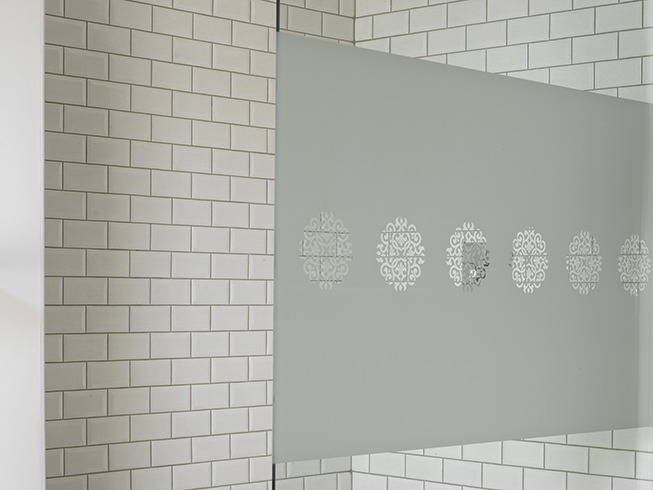 Can Frostbrite frosted window film get wet?
Yes! Frostbrite has been specially developed to withstand water and moisture, making it perfect for use in demanding locations such as kitchens, bathrooms and on shower screens. When the film gets wet simply wipe it down as you would your untreated shower frosted glass door.
Cleaning Frostbrite once it's been applied is easy, too. You don't need any specialist products, simply clean your glass in the same way as you would before it had film applied; just be careful not to use ammonia based products or to use anything that might scratch the glass during the cleaning process. In short, the film is tough, durable, long lasting and easy to clean. What's not to love!
How do I fit film to my glass shower door?
Fitting Frostbrite frosted film is a straightforward process, requiring no previous experience and nothing other than a few standard household items. For larger pieces of film we do recommend that the installation is undertaken by two people, while having a helper on hand is always a good idea if possible.
The first step is to clean your glass as thoroughly as possible, this will ensure the best possible bond between the film and your shower door or window. Once the surface is as clean as possible, use a plant spray bottle to create a soapy water solution. Do this by simply adding a drop or two of washing up liquid too the bottle and fill it with water. With the glass clean and the soapy water solution ready, remove the backing sheet from the Frostbrite frosted film. Then cover the exposed side of the film with water, using the spray bottle to cover it completely before doing the same to the window. With both the film and the glass covered by water, take the film to the glazing and allow it to flow into place. The soapy water will act as a slip solution, allowing you to slide it into the exact position you require.
Each order of window film from The Window Film Company comes complete with a free application squeegee; once this is in place, use it to push the moisture and any excess water from under the film to the edge of the frame. Then use paper towels or a clean cloth to dry the frame and you're done!
Opaque window film installation service.
If you'd prefer not to fit your new frosted window film yourself, don't worry! Help is at hand. Whether you require window film for a glass shower door or privacy for elsewhere in your home, The Window Film Company offers a full installation service with our teams of fully qualified and vastly experienced fitters on hand to carry out a flawless installation at your property.
For more information about the range of window films supplied and installed by The Window Film Company please contact a member of the team on 01494 794477 or email info@windowfilm.co.uk. We'll be happy to help and look forward to hearing from you.