Self Adhesive Window Films from The Window Film Company
Uses of and information about self adhesive films for glass and windows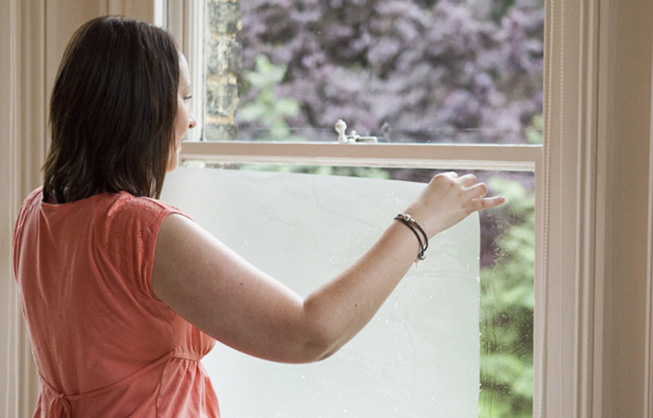 The Window Film Company is an industry leader in the supply and installation of high quality, self-adhesive window films.
Available in a range of finishes to meet a variety of requirements, window film is cost effective, stylish, durable and high performing.
What is a self-adhesive window film?
Window film is designed to be retrofitted to existing glazing, providing solutions to glass related issues such as privacy, excess heat and privacy. Adhesive vinyl film can also be used to feature bespoke graphics and designs, ideal for adding a decorative flourish to residential properties, or a more large-scale display for offices or retail outlets.
Whichever film you choose, the self-adhesive installation process is a straightforward one, with the majority of films available to purchase online for DIY installation. Alternatively, you can decide to let one of The Window Film Company's fully qualified and vastly experienced fitting teams carry out the work on your behalf.
How to fit self-adhesive films to glass
Window film is easy to apply so can be carried out with no prior experience, using only household items and a free application squeegee that is supplied with each order. Your ordered film will also arrive complete with printed fitting instructions, but the process is a straightforward one. Firstly, clean the window as thoroughly as possible – the cleaner the glass, the easier the installation.
Once the window is clean, mix water with a few drops of washing up liquid in a plant spray bottle and then remove the backing sheet from the window film. This will reveal the side with the adhesive; use the spray bottle to completely coat the exposed side of the film with a soapy water solution. Then do the same with the window, ensuring both the window film and the glass are fully covered with water, before taking the film to the glass, allowing it to gently flow into place.
The soapy water solution will allow you to manoeuvre the film into the correct position, before using the plastic application squeegee to push out the moisture to the edge of the glass. Finally, use a clean cloth to mop up any remaining water or moisture.
The Window Film Company also offer a nationwide installation service, so if you'd prefer to purchase your film on a fully installed basis, please contact a member of our team on 01494 794477 or email info@windowfilm.co.uk.
What can be done with window film?
The beauty of window film is that it can be used to deliver a number of long lasting solutions in a stylish and professional looking way. You may want a decorative window design using film instead of pricey etched glass, or maybe you want a one-way privacy film for your windows as an alternative to net curtains. This is a brief summary of just some of what can be done with self adhesive window film from The Window Film Company:
· Privacy: Choose from one-way daytime privacy or full -time two-way privacy options. Reflective film will give the exterior face of your glass a mirrored effect, blocking the view from the outside in, while our stunning Frostbrite frosted window film is a great cost effective alternative to frosted glass will provide your home, perhaps on your bathroom window, or office with a contemporary two-way privacy solution.
· Solar control: Excess heat can be a serious issue in both residential and commercial settings. Window film is a hugely effective way of reducing excess heat, preventing rooms from heating up to uncomfortable levels by rejecting a percentage of solar energy before it is allowed to pass through glass. Window film is more effective than traditional methods such as curtains or blinds, as both these methods let heat pass through the glass while also blocking light and the view.
· Safety and security: An application of specialist safety window film from The Window Film Company can serve to bring your glass up to safety standard. The film works by holding glazing together in the frame if broken by accidental or malicious damage, in turn preventing it from falling in on itself and causing injury or damage.
It is important to remember that the self-adhesive films available from The Window Film Company are high quality window films with high performance and are more durable than many other static cling window sticker or sticky back plastic window cling film type products
For more details on any of the glass window films we offer, including all of our self-adhesive window films supplied and installed by The Window Film Company, please contact a member of the team by calling 01494 794477 or email info@windowfilm.co.uk.