Shop Front Window Graphics Options
Custom shop window graphics, custom window stickers & window decals.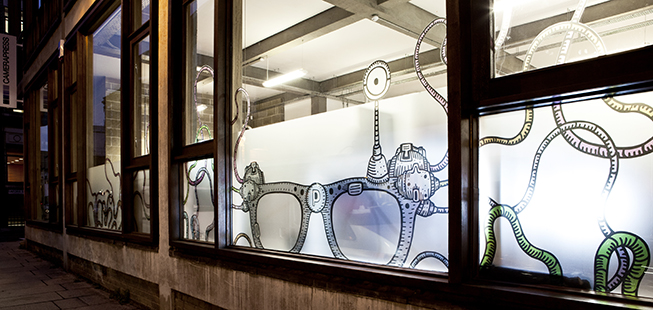 As industry leaders in the creation, supply and install of printed graphics, The Window Film Company offer a huge range of shop front window graphics options, with the ability to create eye-catching displays for use in almost any situation.
Adding graphics to shop front windows is a hugely effective way of delivering a wide range of branding, product and marketing messages, (not just opening hours information) displaying signage or simply adding a striking and memorable new look to windows and glass. The Window Film recognizes that each situation and requirement is different and has therefore developed a range of different options to ensure you get the window graphics that you desire and require. Read on to get an overview of your shop front window graphics options…
Printed graphics on optically clear film.
Creating printed graphics by printing onto optically clear film is a popular and hugely effective way of creating intricate and detailed full colour graphics for shop fronts and other glazing. The beauty of this technique is that the film used, as the name suggests, is completely clear and is therefore practically invisible to the naked eye.
This means that intricate designs and artwork can be created and reproduced in perfect detail, without the need for cutting. Effectively, printing onto optically clear delivers the appearance of cut graphics, which are perfect for when a printed graphics display is required, but the vision in through the glass is still important.
Frostbrite frosted film and printed graphics.
When applied to glass, Frostbrite frosted window film delivers the look of acid-etched glass or sandblasted glass, delivering a stylish and ultra-effective privacy solution, blocking the view from both sides of the glass without sacrificing natural light; the film is specially designed to allow as much light to pass through as possible.
Frostbrite frosted film also provides the perfect surface on which to print full-colour graphics, creating an eye-catching display that can be applied to shop windows as well as any other glass surfaces. Several techniques can be used to make sure that the graphics stand out, including double strike printing or backing the design in white ink to make it stand out and really make an impression.
Printed graphics on Frostbrite can be used to cover entire windows when a privacy solution is also needed or cut to the exact size needed; part covering glass or just applied to specific panels or locations. When creating printed graphics for shop fronts with The Window Film Company, the choice is yours!
Printed graphics on solid vinyl.
Using Frostbrite and optically clear window films to create graphics are both suggestions that allow natural light to pass through the glass; sometimes it's necessary to create printed graphics that not only create an impactful display but also deliver complete privacy, blocking not only the view but light too.
For these situations, The Window Film Company recommend using vinyl window graphics, a long lasting and durable product that can be used for internal or external installation. The film provides an excellent surface on which to print; The Window Film Company uses state of the art print technology to recreate artwork in vibrant full colour, while the heavy duty nature of the film means that when applied to the glass surface both the view and all light are blocked and prevented from entering your premises.
All graphics printed in-house by The Window Film Company.
Here at The Window Film Company, we pride ourselves on delivering the highest possible quality when it comes to printed graphics for shop fronts, windows, partitions and other surfaces. We maintain our quality control by creating all printed graphics in-house. Our dedicated graphics and print team use state of the art computer cutting technology alongside an array of high performance, wide format printers that allow us to print full colour, full size graphics onto window film, vinyl and rigid media.
By creating all printed graphics in-house, The Window Film Company can also react to fats turn around times and short deadlines, so if you need high quality printed graphics in a hurry, The Window Film Company are able to deliver.
Installation of window graphics for shop fronts.
Whichever method of creating printed graphics for your shop front, shop window stickers or glass partitions, you can also rely on The Window Film Company to carry out a flawless installation that leaves your window displaying the exact custom size graphics desired. The Window Film Company employs teams of fully qualified and vastly experienced installers that can deliver cost effective flawless graphics fitting, regardless of location or size.
For more information about which printed graphics solution works best for your situation, please call a member of The Window Film Company's friendly team on 01494 794477 or email info@windowfilm.co.uk.