What Can I Put On My Windows For Privacy?
Installing window film on your window for privacy is an affordable and effective way of obscuring the view into your property.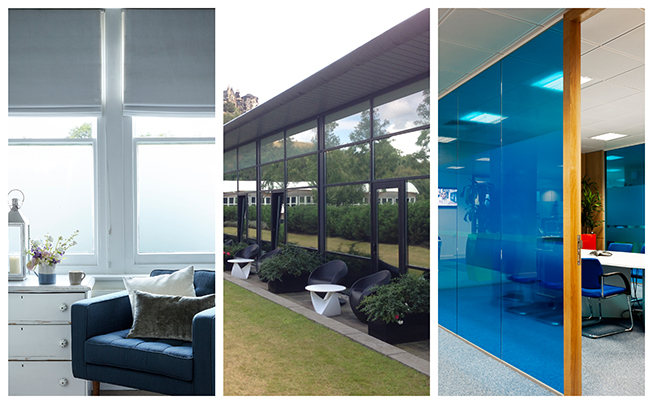 Available in a range of different appearances, there is certain to be a privacy window film that meets your requirements and your style preference.
Privacy window film is a retrofitted product that can be fitted to glazing to obscure the view. The installation process is straightforward, meaning that it can be installed with a minimum of fuss and disruption. The Window Film Company recommend that privacy window film is installed to the interior side of the affected glazing, but exterior grade privacy films are available for when an internal installation isn't possible.
When it comes to window film for privacy, there are four main options, each with a different appearance.
1. Frostbrite frosted window film for privacy
Frostbrite is a long-lasting and durable window film that when installed, gives the glass the appearance of acid-etched or sandblasted glazing. The film has been specially developed to deliver a stylish, contemporary look and effective two-way privacy without sacrificing natural light. As well as looking incredibly stylish, Frostbrite frosted window film is designed to be tough; making it perfect for use in high traffic locations such as corridors and doors, as well as demanding locations such as bathrooms and shower screens.
2. Reflective window film for one-way daytime privacy
One-way privacy can be achieved with an application of reflective privacy window film. During daylight hours, the external face of the film will take on a reflective appearance, preventing a view into your premises while maintaining the view from the inside out. In addition to daytime one-way privacy, an application of this window film will deliver additional benefits such as glare reduction and UV protection.
3. Solid colours and vinyls
The Window Film Company supplies and installs a range of coloured vinyls that will block both the view and the light, giving your glazing a solid coloured effect. This privacy solution is only suitable for certain types of glass, so for more details on these privacy products, please contact a member of our team on 01494 794477.
4. Custom created privacy solutions
In addition to standard films to deliver privacy for windows, The Window Film Company specializes in the print and installation of custom created privacy solutions. Produced by utilising state of the art print technology and high-quality window films, graphics featuring branding, signage, imagery or text can be applied to glass to deliver an eye-catching privacy solution.
As well as a choice of film, there are also options when it comes to installation. All privacy window films are available on a supply only basis, with some window films available cut to your exact size specifications. The Window Film Company also offers a nationwide installation service, with teams of fully qualified and vastly experienced fitting specialists available to fit privacy window film at your premises, regardless of size or logistical challenges.
For more information on the correct choice of window film for privacy in your situation, please contact a member of the team on 01494 794477 or email info@windowfilm.co.uk; they are on hand and looking forward to helping provide you with the perfect privacy solution for your glass.