What Is Frosted Glass Film?
Frosted window film to give your glass a frosted appearance.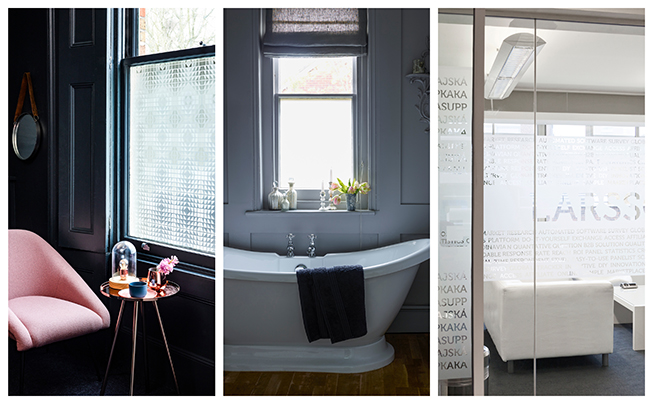 Frosted glass film is an easy to apply window film that provides privacy by giving glass the appearance of acid-etched or sand blasted glazing – preventing vision from both sides of the window.
The frosted glass film supplied by The Window Film Company is Frostbrite, a high-performance window film, specially developed to be easy to install and to deliver a stylish privacy solution without sacrificing natural light.
Frostbrite frosted window film is hugely popular for a number of reasons;
1. Effective immediately
Once applied, the film is effective immediately, blocking the view from both sides of the glass. The contemporary, stylish look means that it's the perfect solution for any location, whether that be for privacy in the home or for use in a commercial setting. The film is designed to be retro-fitted to the internal face of glass and can be installed with the minimum of fuss.
2. Long lasting and durable
Frostbrite frosted film looks stylish, but it is also incredibly tough and long lasting. It has been specially developed to be resistant to water and moisture, making it perfect for use in bathrooms or on shower screens. It is also easy to clean (no special treatment is required, simply clean the film as you would normally clean glass) and is incredibly tough – it can be used with confidence in high traffic locations such as corridors and doors.
3. Fully customisable
Frosted glass film provides the perfect opportunity for customisation and The Window Film Company offers a wide range of stylish and creative options.
The Window Film Company has collaborated with a number of talented designers and illustrators to create a host of stunning collections, featuring beautiful printed or cut patterns. Orders are created to the exact size specified, meaning each piece of window film is a custom creation; ideal for adding an extra element of style to your home or office interior. Explore our designer window film collections.
As experts in the creation of printed graphics, The Window Film Company can also print bespoke graphics onto Frostbrite frosted film, for use in office branding, for signage or simply for adding a new look to your glazing. Using state of the art print technology, The Window Film Company can use frosted glass film to create an eye-catching, professional and memorable display for your glazing, whatever the size.
Frostbrite from The Window Film Company is available to buy online for a DIY installation, with a nationwide fitting service also provided, with teams of highly qualified and vastly experienced installers on hand to deliver the perfect finish with the minimum of fuss or disruption.
In summary, frosted glass film is a cost-effective way to achieve privacy and style, with one easy installation. For more information about Frostbrite frosted film, please call a member of the team on 01494 794477 or email info@windowfilm.co.uk.