What is One Way Mirror Window Film?
One way mirrored window film for privacy and solar control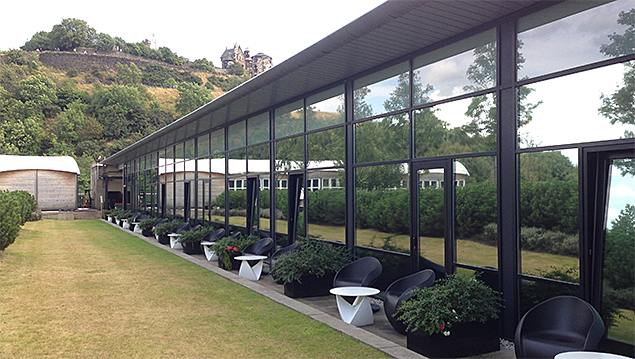 One way mirror window film is a highly effective solution for a range of issues, including privacy and solar control. Since being founded in 1998, The Window Film Company has forged a reputation as industry leaders in the supply and installation of mirrored films, delivering projects for residential and commercial clients.
The Window Film Company offers one way mirrored window film on a DIY and full installed basis. If you would like to discuss an installation quote or obtain samples of the films available, please contact a member of the team on 01494 794477 or email info@windowfilm.co.uk. Otherwise, we hope the information below will help you understand what can be achieved with reflective window film.
What is window film?
Window film is a durable yet thin layer of film that is designed to be retrofitted to glazing. It is usually applied to the internal face of the window to ensure the longest possible useful life, but external grade window films are available. The film requires no special maintained once it is installed; the window can be cleaned in the same way non-filmed glass would be. Films can be installed with no prior experience, but for larger panes, extensive installs or fitting in challenging locations, we would always recommend that the fitting is undertaken by one of The Window Film Company's fully trained, expert fitting teams.
How does one-way mirrored window film work?
It's important to appreciate that mirrored window film doesn't actually have a reflective and non-reflective side. The reflective mirrored effect will appear on the side of the film that is exposed to a higher light level. Therefore, during daylight hours, this will be the exterior face of the film as (unless there are bright lights on inside the premises) this is the side of the film that is exposed to the greater level of light.
During daylight hours, the view from the inside out will also be maintained. While those passing glazing with reflective film applied will see a mirrored effect, people inside will still be afforded a view to the exterior. The film also allows excellent levels of natural light to pass through the film and glass, ensuring that the interior doesn't feel dark or gloomy.
Mirrored window film for privacy
One way mirrored window film is the ideal solution for daytime privacy. Unlike frosted window films, which block the view through the glass both ways, reflective mirrored film is perfect for situations where the view from the outside looking inward, needs to be blocked during the day; whether it be for a residential property or an office or commercial location, the mirrored film delivers a sleek and stylish appearance combined with excellent levels of privacy.
Once applied, the film will give the outside face of the glass a reflective look meaning that passers-by will get a view only of their reflection. The film is available in silver (our most popular film in the range) or a number of other finishes including blue, green and gold.
Mirrored window film for solar control
As well as privacy, reflective window films provide an incredibly effective way of keeping premises cool. The film works by bouncing away from a percentage of the sun's solar energy which creates solar heat, before it can pass through the glass and into the premises, stopping it from adding to the internal temperature. During warm spells, homes, offices or workplaces with windows can quickly become uncomfortably hot, with traditional methods such as drawing blinds or curtains as ineffective as they are unwelcome – by drawing blinds or curtains you will block the view and light; two of the most enjoyable elements delivered by glazing; especially in summer. Reflective window film will help reduce glare and UV rays, and in so doing prevent the steady build-up of heat without making it dark, without blocking the view and without having to resort to costly cooling methods such as air conditioning.
Additional benefits of mirrored window film
Reflective window film from The Window Film Company will also reduce glare; serving to cut out the harshest elements of sunlight; like putting a pair of light sunglasses onto your glazing. The film will also block up to 99% of the sun's potentially harmful UV rays – it's these rays that are the main contributing factor to fading. An application of mirrored window film will help slow down this process, helping to protect flooring, upholstery, furnishings and other valuable items or equipment. Mirrored window film, even our silver mirror finished films are still effective without the need to add an additional artificial light source inside.
Mirrored reflective window film installation
It's straightforward to achieve a one-way mirror effect window film installation. The product is designed to be easy to apply, with no prior experience required to deliver a perfect installation with nothing more than soapy water and a few basic tools or household implements.
For more details about the full range of one-way mirror window film and anything to do with window tinting supplied and installed by The Window Film Company, please contact a member of the team by calling 01494 794477 or email info@windowfilm.co.uk