What is The Best Glass Frosting Window Film?
Which is the best frosted film for my windows and what options are available?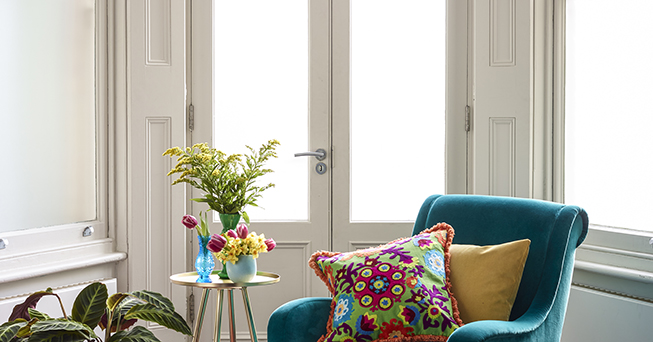 The Window Film Company offers a range of privacy solutions, including Frostbrite frosted window film; a high performance and stylish looking product that we're proud to recommend as what we see as the best glass frosting window film available.
Frostbrite frosted window film is an elegant way of giving standard glazing the appearance of textured or frosted glass, similar in look to acid-etched or sandblasted glass, making it perfect for privacy or for giving your glass a stylish decorative designer upgrade. Read on to find out why we think the best glass frosting film for your windows is Frostbrite ®.
Frostbrite frosted window film for privacy.
Once applied, Frostbrite film for glass frosting will immediately transform the appearance of your glazing, giving previously plain windows the contemporary look of genuine frosted glass, without the need for expensive replacement glass. By frosting your glass you will deliver a highly effective privacy solution, blocking the view from both sides of the glass.
Using Frostbrite window film to add a frosting effect to your glass, you will be guaranteed privacy without sacrificing natural light as the film has been specially developed to allow excellent levels of light to pass through the film and the glass. This means you can enjoy the privacy you require without making the inside of your home or premises feel dark or unwelcoming.
Frosted patterns and designs for decorating your glass.
If you'd like to give your glass frosting an extra element of style then The Window Film Company has the perfect solution for you. Choose from an exciting wide range of cut or printed patterns, with each individual panel created to your exact size specifications to deliver a bespoke decorative addition for your home.
Cut patterns are created by using precision computer cutting technology to cut designs from the frosted film, creating intricate patterns in perfect detail. If choosing a cut pattern, it's important to be aware that the patterned area will be clear with the rest of the panel frosted, so please consider your choice of pattern if you are purchasing window frosting film for privacy purposes – the cut out part of the patterned area will allow for vision through the glass.
The Window Film Company also offers a collection of stunning white printed designs. Orders from this collection are created by printing the pattern in beautiful white ink onto the Frostbrite frosted film. As with the cut patterns, each panel is cut to your exact size specifications, providing you with a custom creation, made especially for your glass.
Fitting glass frosting window film.
Glass frosting window film from The Window Film Company is easy to apply if you follow the recommended, straightforward process. Both the cut to size and the purchased by the metre versions of our white frosted window films and the decorative window films, are pretty easy to handle and the fitting can be successfully completed with no prior experience and nothing more than a few easily obtainable household items.
To fit Frostbrite frosted window film, firstly make sure your window is as clean as possible. Then remove the backing sheet from the film and use a plant spray bottle to cover the exposed side of the film with soapy water.
This soapy solution should be made by adding a few drops of standard washing up liquid to the water. Once you have covered the film with the water, do the same with the window. Use the plant spray bottle to cover the pane that you wish to film, then take the film to the glass and let it flow onto the glazing.
The soapy water solution will allow you to slide the film into the exact position you require. Then, use the application squeegee (supplied with every online order) to push the moisture to the edge of the pane where it can be dried using a paper towel. Printed fitting instructions are supplied with every online order, while there are easy to follow video application guides at the bottom of each and every product page on The Window Film Company website.
Once installed your film will give your glass an etched glass look that is a fantastic alternative to net curtains, that are prone to dust gathering. The frosted film is easy to clean and is also very durable, so should last years.
Buying online and product delivery information.
The Window Film Company policy is to despatch all window film orders received before 1 pm on the same working day. Wherever possible, orders placed after this time will also be despatched the same day, but due to courier deadlines, this cannot be guaranteed.
Due to delivery network restrictions, standard delivery is not available for addresses in the following postcode areas:
HS, KW, IV, AB, DD, PH, PA, BT, IM, GY, JE, ZE and KA.
We remain committed to serving our customers that live in these areas, so please call 01494 794477 to discuss delivery and to complete your order.
All our window films are high quality products with superior durability than some other window sticker, wall stickers or static cling film types of sticky back plastic.
Frosted glass film installation service.
If you'd prefer not to try and fit your Frostbrite frosted window film yourself, then help is at hand! The Window Film Company offers a full window film installation service, with teams of expert fitters delivering flawless fitting across the country.
To see some of the high quality window film installations The Window Film Company installers have successfully completed, please take a look at our window film case studies.
For more details on his service, a quote or for additional information on what can be achieved with Frostbrite for frosting your windows and glass, please call a member of our team on 01494 794477 or email info@windowfilm.co.uk.
Further window film useful information & resources.
Commercial frosted window film full rolls to buy online.
As well as the designs and patterns available to buy, usually for the home, our Frostbrite frosted film is also available to buy by the roll, 1.5 metres wide x 30 metres in length.
Buy Frostbrite Full Roll (1.5m x 30m) Online
Frosted Window Film provides your glass with a classic, sandblasted effect, delivering two-way privacy without sacrificing natural light.
The versatility of our Frostbrite frosted film makes it is suitable for use in a wide range of situations and it has become one of the most popular contemporary interior design solutions. A durable, professional standard window film, Frostbrite will give your glass the appearance of acid-etched glass at a fraction of the cost.
Please be aware that not all films are suitable for installation to all types of glass. For more details please download our glass compatibility chart or call 01494 794477 for advice.