What is the Difference Between Frosted & Obscure Glass?
Window film options to obscure glass or create frosted glass windows.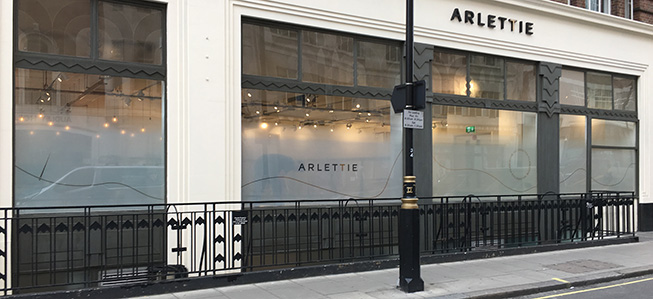 The difference between frosted and obscure glass depends on a number of different factors. Windows can be purchased with an existing frosted effect, designed specifically to obscure the view through the window, or you can use frosted window film on existing clear glass to achieve the same result.
If you don't have frosted, obscure or textured glass but do need a privacy solution for your windows, then window film from the Window Film Company is the ideal solution. It's easy to install, long lasting and effective immediately.
Achieving the appearance of frosted glass.
If you require or want a frosted appearance for your glass, then this can be achieved with an application of Frostbrite frosted window film. Specifically designed to give glazing the appearance of acid-etched or sandblasted glass, this film will block the view from both sides of the glass without sacrificing natural light.
The film has been specially developed to deliver a stylish, contemporary finish that is impossible to differentiate from frosted glass. It's also long lasting and durable, making it suitable for use in high traffic and demanding locations. The film has been developed to withstand water and moisture, making it the ideal solution for use in bathrooms or on shower screens.
Another benefit of Frostbrite frosted film is that it provides the perfect surface on which to print. The Window Film Company offers an extensive collection of printed designs, including a number of exclusive designer collections including Mini Moderns, Jane Foster and Charlene Mullen. When ordering one of these patterns, your window film is created to your exact size specifications, making it a genuinely bespoke privacy solution for your glass.
The Window Film Company also has a dedicated print and graphics department, enabling us to print full colour, wide format graphics for use on shopfronts, windows and glass partitions, providing an opportunity to deliver privacy as well as adding branding, signage, text or a new decorative appearance for glazing.
Obscuring glass with one-way privacy window film.
If you are looking for a privacy solution that allows one-way vision through your glass, then The Window Film Company's range of reflective films could be the answer. Films such as High Reflective Silver provide daytime one-way privacy, by displaying a mirrored effect on the external face of the film during daylight hours.
The film works on the premise of light balance, with the side of the film exposed to the most amount of light taking on the mirrored appearance and therefore making it suitable for daytime privacy. The beauty of this particular film is that it will obscure the view from the outside in without blocking the view from the inside. One of the benefits of glazing is the view that is afforded from the interior, and this film has been designed to maintain that as well as allowing excellent levels of natural light to pass through the glass.
This type of film delivers additional benefits such as UV protection and glare reduction, so for the full picture on how reflective window film from The Window Film Company can help, please contact a member of the team by calling 01494 794477 or email info@windowfilm.co.uk.
Fully obscuring glass for privacy.
Both frosted and one-way privacy window films deliver privacy while still allowing natural light to pass through the glass. If you require a solution that blocks the light as well as the view, then vinyl window film from The Window Film Company should be your preferred option. Available in a range of vibrant and eye-catching colours, vinyl window film is designed to be applied to the exterior of your glazing and will deliver a comprehensive way of obscuring your glass.
Vinyl also provides an ideal surface on which to print, so if required, The Window Film Company can print full colour graphics onto the film before application. Solid vinyl isn't suitable for every type of glass, so if you think this is a solution that could work for you, please do speak to one of our advisors by calling 01494 794477 or email info@windowfilm.co.uk
Whichever method you choose to obscure or frost your glass, and no matter if it is for your front door or your bathroom windows, when installing window film from The Window Film Company you can be assured of a high quality, long lasting and aesthetically pleasing privacy solution.