How Do You Obscure Glass?
How to obscure your glass with window film.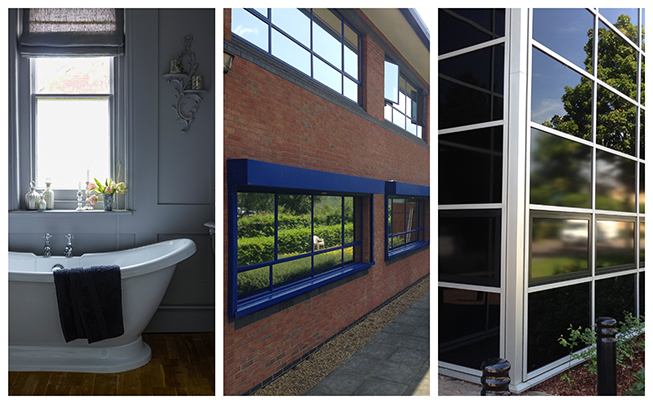 Obscure your glass with window film for a cost-effective and stylish looking solution. Choose from a wide range of high performance, easy to install window films from The Window Film Company.
When it comes to obscuring glass, the options provided by window film are plentiful. Privacy can be required or desired in a host of different situations and locations, needed for a number of varying reasons. The Window Film Company's range means that there is a suitable film for every situation.
How does window film obscure glass?
There are two main ways in which applying film to your glass can deliver privacy. Two-way privacy, which can be delivered by Frostbrite frosted film or solid coloured types of vinyl, or one-way reflective window films which are suitable for delivering daytime privacy, while still allowing a view from the inside out.
Frostbrite frosted window film
Once applied, Frostbrite will give your glass the classic look of textured glass or acid etched glass, serving to block the view from both sides of the glass while also adding a contemporary, stylish look, suitable for use in the home or in commercial settings. Long lasting and durable, the film can be applied in demanding locations such as bathrooms and has been specially developed to provide privacy while still letting excellent levels of natural light to pass through the glass, in the same way, it would if the window was genuine a frosted glass window.
Reflective film for one-way privacy
The Window Film Company supplies and installs a wide range of reflective products that are suitable for delivering one-way daytime privacy. In the case of these films, the privacy is delivered by the reflective nature of the film – once applied, passers-by will see a reflection instead of an unobstructed view in through the glass.
One-way privacy film won't make the inside of the premises dark, although it will have an effect. The film has been designed to allow excellent light transmission; think of the film as a light pair of sunglasses for your glazing!
It's important to be aware that this film works on the light balance; the film does not have a reflective and non-reflective side. The side of the film that is exposed to the higher level of light will take on a reflective appearance, making it ideal as a daytime privacy solution.
Solid colours and vinyls
Solid vinyl window films, available in white, black and a wide range of vibrant colours are designed for when it's necessary to block the view and light. Please note that glass must meet certain criteria for vinyl window films to be applied; please contact a member of the team on 01494 7944477 or email info@windowfilm.co.uk for help and advice.
What about window film installation?
When purchasing window film to obscure glass from The Window Film Company, you have two options. Buy your film online for DIY installation (all our privacy films are available to purchase via our online store) or choose to have your window film installed by one of our fully qualified and vastly experienced fitting teams.
Whichever film and fitting solution you choose, if you require any advice, further information, samples or a quote, please call a member of our team on 01494 794477 or email info@windowfilm.co.uk.
Want to fit obscure window film yourself?
If you wish to fit your obscure glass film yourself take a look at our window film installation instruction guides, which take you step by step through how to apply the film to a pane of glass. If you have any general questions they are probably answered in our FAQ's section.