RAINBOWS RAISE MONEY AND A SMILE
Apr 17 2020
The Window Film Company has launched a range of rainbow design window films, allowing home owners to show their support for the NHS while also raising money for charity.
The new window films feature a vibrant rainbow design, an emblem that has become synonymous with support for the National Health Service. 20% of all proceeds rom the sales of the rainbow window films will be donated to NHS Charities Together.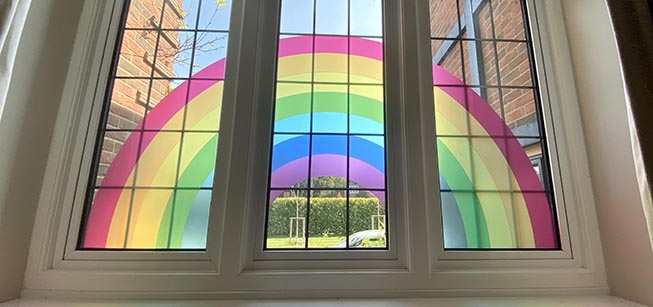 Each rainbow window film is a bespoke creation, made to fit the exact sizes of your windows - simply enter the dimensions you require online and the price will be automatically displayed.

The striking rainbow design is easy to install, with no prior experience needed and nothing more than a few standard household items required for installation. The designs are available in two different options, printed onto a clear window film or created using our popular Frostbrite frosted film.

Once installed Frostbrite will give glazing the appearance of acid etched or sandblasted glass, making it the perfect privacy solution; blocking the view from both sides of the glass without sacrificing natural light. The rainbow design is recreated in brilliant, vibrant colour by using state of the art print technology.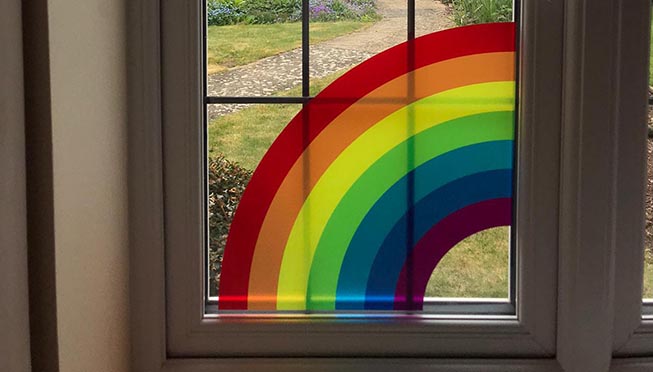 The clear version uses the same high quality print process, with a clear base material that once applied will give the appearance of a cut rainbow design.

Both styles are easy to apply, with full fitting instructions and a free application squeegee supplied with each custom created order. The basic process involves using a plant spray bottle to cover the window with a soapy water solution (add a few drops of washing up liquid to a bottle full of water), before removing the backing sheet and doing the same to the rainbow window film. Then take the film to the glass, allowing it to flow onto the glazing. The soapy water will act as a slip solution, allowing you to manoeuvre the film into place before using the squeegee to push the moisture out from under the glass to the edge of the pane.

20% of the proceeds from sales of this specially created will be donated to NHS Charities Together, allowing you to show your support for the NHS with a stylish addition to your glass, while also making a contribution to a most deserving cause.

You can find the rainbow designs for sale in our online shop here.