Obscure Glass Window Film
Obscure windows and glass with reflective films or frosted window films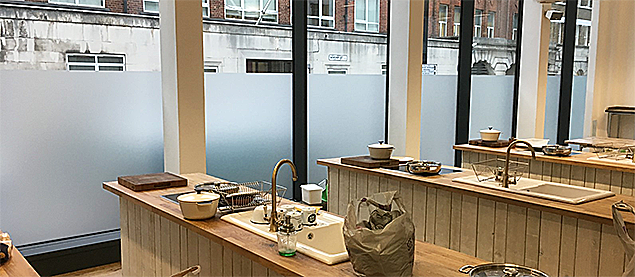 Remove the need for net curtains with our range of obscure window film. Window films are easily fitted directly to windows and glass and are relatively easy to both apply or remove. Window obscuring films allow daylight to penetration whilst obscuring the view, in and out.
Window film to obscure glass can be required in a number of situations and The Window Film Company offers a host of options to ensure you get the privacy solution that suits you. With a number of different products available, it's possible to obscure glass with window film and style.
Window film is designed to be fitted to glass that is already in place, in the window frame, meaning that has been specifically developed to be installed to existing glazing. It is usually applied to the internal face of the glass (this allows for the longest possible useful life) although external grade films are available should an internal installation not be possible. Window film is a cost effective, long lasting and simple solution for obscuring the view through windows and glass, suitable for use in residential and commercial settings.
How do I obscure glass with window film?
The beauty of window film is that it is effective immediately. As soon as it is applied to your glass, the view will be obscured, with the appearance depending on the film you've chosen. All our privacy window films are available to purchase via the website for DIY installation, while The Window Film Company offers a full nationwide fitting serviced should you want one of our fully qualified installation teams to take care of the process for you!
Obscuring glass with frosted films
Frostbrite frosted window film from The Window Film Company is a stylish way to obscure your glass from both sides of the pane. Once applied, Frostbrite frosted window film gives glazing the appearance of acid-etched or sandblasted glass, blocking the view while also delivering a contemporary new look for your windows. Frosted window film is widely used in people's homes and in all kinds of offices and workplaces too. Applying window film frosting to glass partitions in offices, often adding printed graphics and company branding is a very popular way to offer privacy in meeting rooms and individual offices alike.
The film has been specially developed to allow high levels of natural light to pass through the film, meaning that two-way privacy is achieved without making your interior feel dark or gloomy. Frostbrite frosted window film is available by the metre or pre-cut to your specified sizes.
Add an extra element of style with decorative window film designer patterns
The Window Film Company is proud to offer a wide range of beautiful patterns and designs, printed on or cut from our Frostbrite frosted window film. Each patterned window film is supplied cut to your exact size specifications, making it a genuinely bespoke way to obscure your glass. Choose from white frost printed designs or from our collection of cut patterns. We also offer a stunning range of designer collections, featuring gorgeous collaborations with renowned designers and illustrators.
Obscuring glass with reflective one-way privacy film
It is possible to achieve daytime one-way privacy using specialist window film from The Window Film Company. To obscure glass using this method, you will require one of our reflective window films, think of this glass film option as an alternative to net curtains. Available in different grades, each reflective window film will offer slightly different performance and appearance but will work on the same basis. The side of the film exposed to the highest levels of light will take on the reflective appearance, meaning that during daylight hours this will be the external face of the film. The glass is obscured by this appearance, with the outward facing side of the glass having a mirrored appearance, with the view from the inside out maintained. The film also allows excellent levels of natural light to pass through the film and the glass, delivering the necessary privacy without sacrificing light.
Can I obscure my bathroom window with window film?
Frostbrite frosted window film has been specially developed to make it resistant to water and moisture, in turn making it the perfect solution for delivering an obscured glass effect in bathrooms. One applied the film will deliver two-way privacy, with a frosted glass or etched glass effect, on your bathroom windows or shower screens. Your window or glass surface can be cleaned in the same way you'd treat the glass or window as if it didn't have any window film applied. You should, however, take care not to use any strong chemicals or ammonia based products on the film.
Obscure glass effect window film installation
It's straightforward to achieve an obscure glass effect window film installation. The product is designed to be easy to apply, with no prior experience required to deliver a perfect installation with nothing more than a few basic tools or household implements.
Full fitting instructions are supplied with each window film order, with step by step video guides available on each product page, but the basic installation technique requires the removal of the backing sheet from the film, followed by an application of soapy water (use a plant spray bottle with a few drops of washing up liquid) to the glass and the back of the film. The film can then be manoeuvred into the correct position on the window before using a squeegee (a free plastic squeegee is supplied with every online order) to remove the remaining moisture from underneath the film to deliver a bubble free end product.
For more details on the range of window films available for obscuring glass, contact a member of our friendly today. Please call 01494 794477 or email info@windowfilm.co.uk.