Conservatory Roof Film Fitting Costs
What will it cost to have a window film installer fit conservatory roof film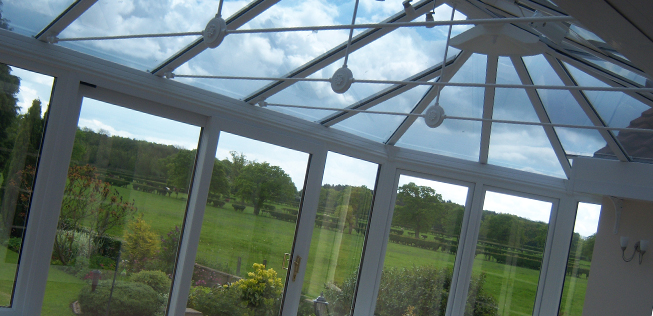 Conservatory roof film fitting costs probably aren't as much as you think! The Window Film Company have been supplying and installing specialist, high-performance window film for conservatories since 1998, offering a professional service at an affordable cost.
Your conservatory roof, whether it be glass or polycarbonate can all too often result in the internal temperature reaching uncomfortable or even unusable levels. An application of heat reduction window film will help tackle the problem of overheating without blocking your view or natural light.
Why is conservatory roof film an effective solution?
Left untreated, your conservatory roof will let solar energy pass through it and into your property, allowing the internal temperature to rise exponentially until eventually, it becomes too hot to be comfortable. This issue is particularly problematic during the summer months when better weather is more prevalent and the days are longer.
Once applied to your conservatory roof, conservatory solar window film works by reflecting away (in the case of glass roofs) or filtering out (if you have a polycarbonate roof) a percentage of the sun's solar energy, in doing so serving to sop the steady build up of excess heat inside your property. The film is applied to the internal face of your conservatory roof, with the film available to buy on a DIY or professionally fully installed basis.
How much will it cost to install a conservatory window film?
The cost of your window film will depend on a number of factors. Firstly, it's important to identify the correct window film for your conservatory. If you have a glass roof you will require our Supertint Glass window film. If you have a polycarbonate roof, your choice will be our high performance Supertint Poly film.
Once you have identified the window film you require, the next choice relates to installation. All window films offered by The Window Film Company are available to buy online for DIY installation. If you choose this method, you can enter the quantity (in full metres) you require on the appropriate product page and your price will be automatically calculated and displayed.
When considering window film for a conservatory roof, we would recommend using our installation service. The Window Film Company offers nationwide installation, with fully qualified and vastly experienced fitters available to carry out your project safely and with the minimum of fuss. To get a quote for an installation, your Account Manager will require the measurements of each roof panel along with confirmation of the number of panels that combine to create the roof area. We recognize that getting accurate measurements of roof panels is difficult, so an alternative is to provide an accurate measurement of the floor area directly beneath the conservatory roof. This detail, along with an approximate measurement of how high the roof is at its tallest point, will allow your Account Manager to provide you with a no-obligation quote.
You can also contact an Account Manager for more details or samples of either of our conservatory sun reduction films by calling 01494 794477.
How does heat reducing window film work?
Window film is designed to be retro fitted to the internal face of glass (external grades of window film are available should an internal application not be possible) and are effective for this exact reason – they are able to act and take effect before heat can pass through the glass – unlike traditional methods such as window blinds or curtains.
If you choose Supertint Glass film for your conservatory heat reduction, the film will work by reflecting away a percentage of the sun's solar energy before it can enter your premise and add to the temperature. Blinds are set back from glass so instead of protecting against excess heat, allow it to pass through the glass before simply trapping it. In addition, closing conservatory blinds will block both the view and natural light – with both of these benefits preserved by using window film, overall a far more cost effective solution.
Supertint Glass is window film for conservatory roofs made of glass. It will reject up to 78% of the sun's solar energy, which considerably reduces heat build up, with this achieved by the external side of the film taking on a reflective appearance during daylight hours. This mirrored appearance serves to bounce away excess heat before it can pass through the glass and into your conservatory.
Supertint Poly is specifically designed as a film for polycarbonate conservatory roofs and delivers a similarly high-performance level, rejecting up to 76% of the sun's total solar energy. This window film will give your roof an opaque appearance, blocking the view (and the excess heat!) without sacrificing natural light.
Additional benefits of solar control window film
In addition to providing a long lasting and highly effective solar control solution, an application of specialist conservatory cooling window film will deliver a number of other worthwhile benefits. For example, glare can be a year-round problem, with bright sunlight during summer and the lower lying position of the sun in winter often making it difficult too focus on screens or reading. Supertint Poly will reduce glare by up to 76% while Supertint Glass will deliver a reduction of up to 79%.
Both choices of film will also block out up to 99% of the sun's harmful UV rays – the biggest single contributing factor to fade damage. Caused by a combination of fade, heat and light, fading can cause costly damage, with the true extent often not apparent until it is too late. By filtering out almost all UV light, an application of window film can help slow down the fading process.
For more details on how The Window Film Company can help protect your conservatory from excess heat and glare, please contact a member of our team by calling 01494 794477 or email info@windowfilm.co.uk.