Solar Control Window Film
Solar window film to help control glare and reduce heat
An application of solar control window film provides an effective solution to a range of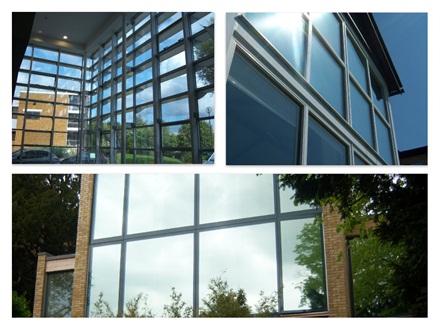 glass related issues. Heat, glare and fading can all be reduced, with a product suitable for every situation, including commercial and residential environments.
Solar control window film is available in a range of grades and finishes, providing a choice of performance and aesthetic qualities. Once installed, the film is easy to maintain, allowing you to relax and enjoy the benefits as soon as it is in place. For a guaranteed high quality application, we offer a nationwide installation service, whilst our solar films are also available to purchase online for DIY installation.
---
Commercial Solar Control Window Film
Commercial solar film can be used to solve a range of problems. Long lasting and durable, window film is a cost efficient and effective way of avoiding costly replacement windows and glass.
---
Residential Solar Control Window Film
Solar control film is suitable for use in a number of domestic applications in the home. With a range of finishes to choose from, there is a film available to match both function and aesthetic requirements.
Heat is a common problem in the home and an application of solar protection film is a cost efective and straightforward solution. The film works by relfelcting away the suns energy before it enters the room, stopping your home from getting steadily hotter. By not allowing the excess heat to enter the room, window film performs far more effectively than blinds. The film is available in a range of different finishes, meaning there is a film that will suit the style of your property, whilst the film will not obstruct vision, or have a major impact on the light entering the room; another improvement on traditional methods such as blinds.
Glare caused by sunlight streaming through your windows can be a major problem. By adding solar protection window film to your glass, it is possible to instantly cut down the glare, making it posible to comfrotably watch TV or read, whatever the weather.
Fading is a result of heat, light and UV rays, and an application of solar control film provides an effective barrier against all three. By cutting out up to 99% of the suns harmful UV rays, solar control film protects furnishings, belongings and carpets from fading, whilst also serving to protect skin from sun damage - our range of films have an equivalent SPF of 285.
---
DIY Solar Commercial Window Film is available to purchase from our online store, with product information and video fitting instructions available for each film. We also offer a nation-wide fitting service for both residential and commercial customers who would like a professional installation. For ore information about this service or a quote for fitting the film you purchase, contact one of our team on 01494 794477.
---
Buy Solar Film for Windows Online