Window Vinyl Films and Their Uses
Glass window films and adhesive vinyl decorative films from The Window Film Company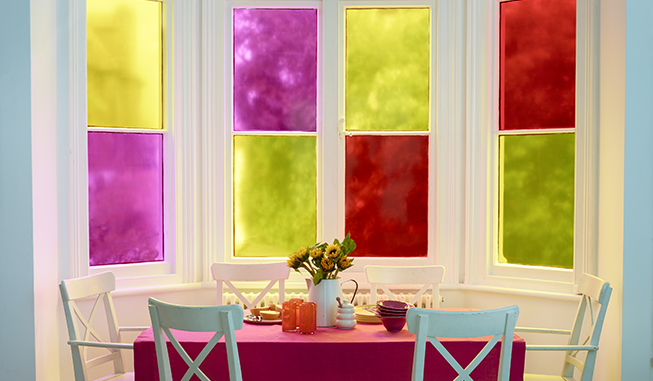 The Window Film Company offers a wide range of high performance window vinyl and films, designed for use in a range of different situations, to deliver a host of different glass-related solutions.
Window films and vinyls from The Window Film Company have one thing in common - they all provide long lasting, high performance with an impressive, eye catching and aesthetically pleasing appearance. The films offered by The Window Film Company are not window sticker or static cling products, instead offering a more stylish and long lasting finish. Which film you choose will depend on your project or requirement, so read on for details of the range of window vinyls and films and what an application could deliver for you.
Window films and vinyls for privacy
Privacy can be required in a host of situations. Perhaps your lounge is on a busy street, your bedroom overlooked or your bathroom requires some shielding from view. Whatever the reason for your need for privacy, The Window Film Company offers a number of stylish and durable solutions.
Frostbrite frosted film is designed to give your glass the appearance of acid etched or sandblasted glazing. As soon as it is applied it will transform the appearance of your window to give it a contemporary frosted glass look, blocking the view from both sides of the glazing without sacrificing natural light. It is also long lasting and incredibly durable, including being resistant to moisture, making it the perfect choice for any room in the house - including your bathroom or wet room.
Frostbrite adhesive frosted film from The Window Film Company can also be ordered to feature stunning patterns. These designs can either be cut from the film to provide an appealing vision panel or, as the film is a perfect print ready surface, printed in brilliant white ink. Whichever you choose, your patterned Frostbite film is created cut to size, to your exact specifications, delivering you a unique, bespoke privacy solution, that looks far better than the usual net curtains, often used.
An alternative to frosted window films for privacy would be our one-way films for daytime privacy. once applied these films provide a reflective appearance on the external face of the glass, delivering a mirrored appearance for those on the outside looking in, while maintaining the view from the inside out. Please note that the window film works on the balance of light, with the side of the film exposed to the highest light levels taking on the reflective appearance. This is why this film is suitable as a daytime one-way privacy solution,
Coloured window vinyl
The Window Film Company's range of full colour vinyls are ideal for situations that require the blocking of a view and a change in the appearance of your glazing. Available in a range of vibrant colours, these vinyls will transform the appearance of your glass surfaces and windows to feature a solid colour. They can also be computer cut to give the appearance of custom created window decals It's important to note that as well as immediately transforming the colour of your glass, these films will block the view and the light so should only be used in specific situations and on certain types of glass. For confirmation on whether your windows are suitable for this type of window vinyl, please contact a member of our team by calling 01494 794477 or email info@windowfilm.co.uk
Coloured rainbow film
Unlike solid vinyls for glass, our coloured rainbow window film range will transform the colour of your glass without blocking the view from either side or sacrificing natural light. Available in a range of stunning colours, rainbow film will immediately change the colour of your windows - you can choose to use one colour or use a combination of shades to deliver a stunning stained glass effect. This type of film benefits from allowing excellent levels of natural light to pass through your glass, with the effect enhanced by the light taking on the form of the colour you've chosen. A beautiful and simple to achieve a way of adding interest to your windows and your home.
Solar reduction window films
Window film provides a cost-effective way of ensuring your home or conservatory doesn't overheat. By blocking a percentage of the sun's solar energy and stopping it from entering through the glass, solar control window film from The Window Film Company will help reduce excess heat and help maintain a moderate and enjoyable internal temperature.
The film is more effective than traditional methods such as curtains or blinds, as the film sits directly on the glass, bouncing away excess heat before it can enter your room and add to the internal temperature. Both blinds and curtains are set back from the glazing, allowing heat to pass through the glass before simply trapping it in place. Curtains and blinds will also block the view and natural light - window film allows for both to still be enjoyed.
Window vinyl and film for safety and security
Glass can be a fragile material if left unprotected and in the event of accidental or malicious damage, it can quickly become very dangerous. An application of safety window film from The Window Film Company can help mitigate these potentially serious situations.
Safety and security film works by holding the glass together in the frame in the event of accidental or criminal damage. By holding the broken pieces together, they are prevented from falling in on themselves and causing potential injury and damage. An application of film can also make it more difficult to obtain unauthorised access to your property by making the broken glass much harder to remove from the frame.
Safety and security is a serious issue so we always recommend talking to one of our experts to discuss your exact situation and requirements before proceeding with a purchase and installation.
Installing window films and vinyls
The Window Film Company offers a nationwide installation service, with our teams of fully qualified and extensively experienced fitters on hand to fit your film, guaranteeing a perfect finish every time. For an installation quote, please get in touch by calling 01494 794477 or email info@windowfilm.co.uk and we'll guide you through the process to getting started. We're here and happy to help.
All of our high quality window films are also available to purchase for DIY install. Your order will arrive via courier and will include printed fitting instructions, to help make the film easy to apply, and a free application squeegee to help you with the process. We also suggest taking the time to view the easy to follow video fitting guide at the bottom of each product page.
To begin your install of adhesive window film, you will first need to thoroughly clean your window. Next, create a soapy water solution by adding a few drops of washing up liquid to a plant spray bottle full of water. Use the spray bottle to thoroughly coat the window. Then, remove the backing sheet from the window film and use the spray bottle to cover the entirety of the exposed surface. Next, slowly take the window film to the glazing and allow it to flow into place. The soapy water will act as a slip solution, enabling you to move the film until it is in the exact position you require. use the application squeegee to push all the remaining water to the edge of the pane and use a clean, dry cloth to mop up the excess.
For more details on any of the solutions, films or window graphics supplied and installed by The Window Film Company, for samples, a quote or an answer to any questions you might have, please call us on 01494 794477 or email info@windowfilm.co.uk.